Our Wedding Suppliers
Invitations - The Write Impression




Since The Write Impression office is near my office, I decided to walk-in and see their sample invitations. I sat down with Jong and picked out 7 invitations that I found interesting. A few days after, they sent me their cost estimates, and we pinned down the invitation I liked. The process was quick and painless – since I wrote my own invitation text, all I had to do was send it to Jong. At the agreed time, I got my invitations ready and was pleasantly surprised that they turned out more beautiful than the original reference sample (we changed the color and fonts also kasi).

Calligraphy – Lincoln




Lincoln is easy to work with – I gave him my list, the envelopes, and he finished 130 names overnight (largely due to the fact that the day I gave him the envelopes was during the Ayala rally, ergo no shoppers). For additional envelopes, I'd text him that I was coming over and he'd finish them in 10 minutes. I loved the final output, as I was insistent on having them handwritten instead of printed out.


Church – Mary The Queen Parish

Aldo and I both wanted a church that had meaning to us, so we had 2 choices – Mary The Queen or the St. Scho chapel. We had to scrap out the St. Scho chapel idea because they don't do weddings so Mary The Queen it was. Jojo (the coordinator) is really easy to talk to and she doesn't mind kulit brides who have a million questions and requests. She also helped solve our pre-cana seminar problem by pointing us to CEFAM, where we arranged for a one-on-one session. Jojo was also extremely helpful in giving me info as to where I could post Aldo's marriage banns. On our wedding day, however, Clarice told me that there was miscommunication between Hangad, Mary The Queen, and me. MTQ ended up charging me an additional 2,500 (which was later brought down to 1,000 because our priest used to say mass there regularly) for a keyboard and additional mics – not very sure about the details as Clarice and her team took care of it. I was also previously worried about the sound system because I attended a wedding and could barely make out what the priest was saying. Fortunately, the sound system sounded good during our wedding.


Pre-Cana Seminar – CEFAM

We asked for a one-on-one pre-cana counseling since Aldo was arriving only days before the wedding. Of all the pre-wedding activities, this was the most challenging, emotional, and without a doubt, one of the best things that we've done together. Since it was a one-on-one session, all our cards were on the table, and everything was out in the open. Of course, not everything was a happy topic, which made us more aware of the things that are to come after the wedding.


Choir – Hangad Music Ministry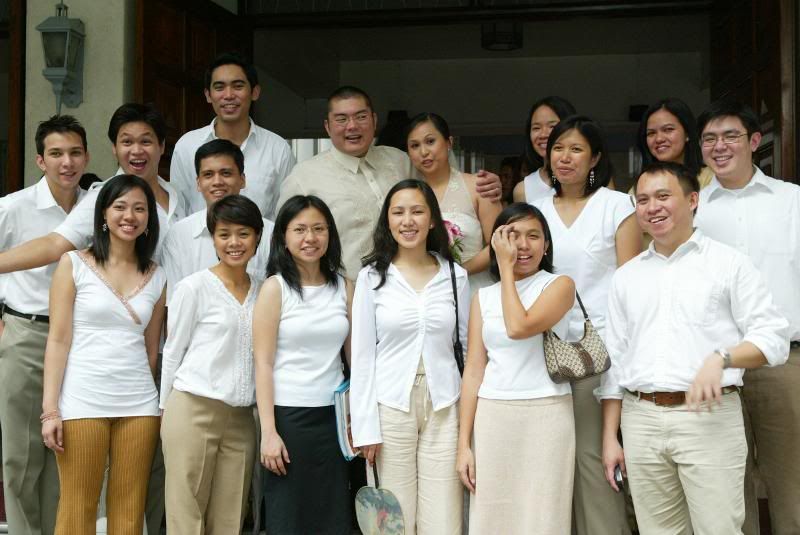 Hangad was one of the first suppliers I hired – after the church, reception venue, and photographers. I was really bent on getting a good choir for my wedding – even if it meant shelling out a modest amount of money for music at the church only. Despite the miscommunication about the keyboard, Hangad did an excellent job in making our wedding solemn and meaningful – just the way I hoped it would be. They're very professional too so I was extremely happy that I got them. Migs (coordinator) always replied promptly to my questions, even if they were trivial. They are also very generous – on the wedding day I wrote them a check with the wrong name in it, so they returned it to Clarice and told her that I can just pay after the wedding.





Hair & Make-up – Eddie Bruan

Eddie is a real pro at what he does. From my trial to the wedding day, I was impressed. They were on time – knocked on the door at exactly 3:30am and wheeled their stuff in, and set-up quite efficiently and fuss-free. Their system is quite efficient as well, as all 14 of us were ready by 7am. They're also not very chatty, and I hardly noticed that they had left already. Norman stayed with us throughout the ceremony and reception and was apparently fuss-free too. Whenever I needed him, he was always within reach.


Bridal Entourage Couture – Ready To Wed




I stumbled upon Ready To Wed at Market! Market! during a store inspection for work. I walked in and found the exact dresses that I wanted for my entourage and asked if I could order more from the store. The sales ladies gave my Lya's card and I emailed her that same day – and got a call from her secretary a few hours later. We encountered a few hitches along the way – changing entourage members, wrong measurements, and last-minute fittings (for the ones who were not based in manila) – but Lya pulled thru and never became sungit on me. Her staff is also efficient, as they were even more responsible than my entourage members. LOL.

Another plus for us was that we could pay thru credit card – this was an important factor to us since Aldo is based in Canada and transfer of funds was easier by just using his credit card extension.


Bridal Couture, Veil, Pillow, Cord – Lya Armovit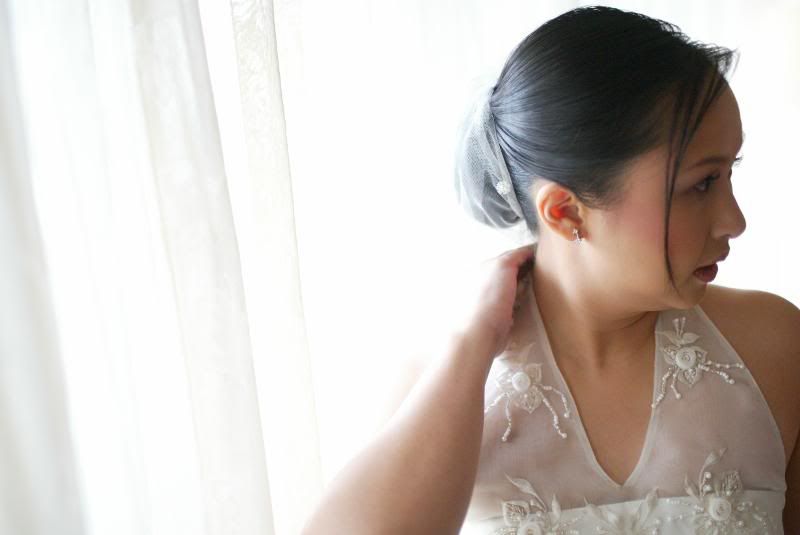 My gown was not from Ready To Wed – thus the separate rating/kwento. At first, I only wanted entourage dresses but the temptation of trying on the wedding gowns was too great, so I ended up asking if I could literally mix and match wedding gown elements and make a new gown out of it. Lya said she could do that, and I had to think about it since I almost already made a deposit on another gown designer. A few days after, we (me, my mom, and my ninang) decided that Lya's taste, personality, and experience gave us security so we made a deposit on my dress.

At first, Lya's sketch looked ok to me – no fireworks or sappy songs in my head when I saw it. But things changed during my first fitting. Instead of just the lining, Lya went ahead and completed it (minus the beadwork) because she was also excited about the outcome. The first time I tried it on, the fit was perfect already, so we just had to wait for the end of August in case I lost or gained weight. More importantly, I started getting excited and giddy about it. We had a total of 3 fittings in a span of 6 months, but all of them were just to check if the fit was still ok, or it would look better with bust pads or a bra, etc.

However, one mistake I made was that I didn't ask her to shorted the hem of my skirt – I thought that I could handle the length since I'd be walking around really slowly anyway. I didn't realize though that it was too long – I kept on tripping on it while walking down the aisle, and even worse, I couldn't really dance properly with it.

But it was beautiful nonetheless.

I was supposed to use a vintage veil (my ninang's old veil which was still very pretty) but when we washed it, the tulle edges curled so Lya found a really nice ivory illusion tulle for me 3 days before the wedding. I also got our wedding cord from her because I was trying too hard to make it DIY but failed miserably. To end my obsession over ribbons, flowers, and beads on my cord, I decided to let Lya be the creative one.

Throughout the time we worked together, I never had to get Lya's mobile phone or make her kulit about anything. Her staff would even call me to remind me of the measurements that I owed them, and of fitting schedules. We got a couple of ninang's gowns and our moms' gowns from Lya too and it was the same story – the fit was pefect the first time they tried it on.

Lya wasn't supposed to come and dress me up on my wedding day but I took a chance and asked her anyway – and she was kind enough to agree to check on our ribbons during our pictorial (my main concern being that the entourage sashes would not be tied properly). Lya's very calm and collected, enough to calm down a frazzled bride and her whole nutty family also.


Aldo's Barong – Exclusively His

I got Aldo's pina cocoon fabric and Italian wool (for pants) from the Kamuning Market, and was initially planning to have them made in King Philip in Makati. But due to logistics, I found it easier to have it made in Exclusively His in Alabang. They charged lower than King Philip, and they were able to finish Aldo's barong and pants, plus FIL's barong and pants also in 4 days. When they tried it on, they just had it ironed and that was it.


Flowers – Lily's Flower Boutique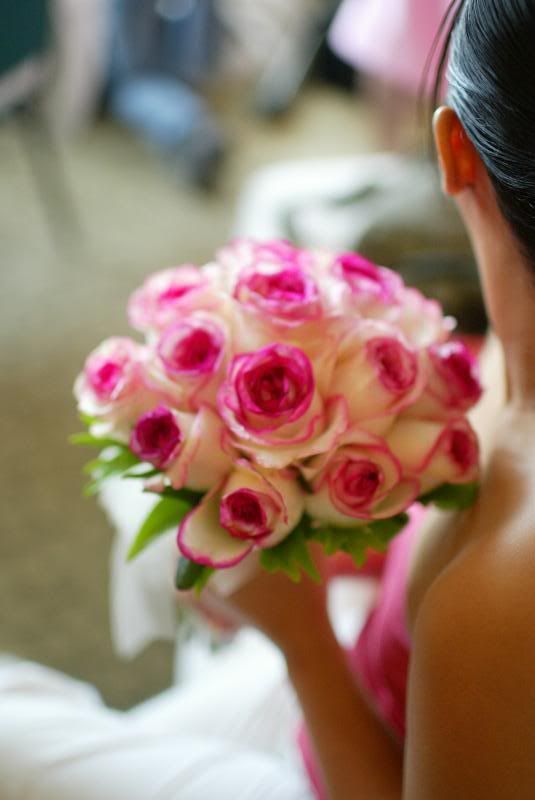 My sister works closely with Lily's, plus they don't charge an arm and a leg for beautiful flowers, so it was an obvious choice to have them at my wedding. To make everything simple, I got all flowers from them. Since my sister handled coordination between Edsa Shang and Lily's, I did not have any problem with details. On the wedding day, they were prompt and the flowers were really beyond my expectations. I had originally picked light pink Ecuadorian roses but during the bridal fair last Sept. 3 they had really beautiful white Ecuadorian roses with pink tips – I just found them beautiful but never really asked them to change mine. Come Sept. 10, I was handed a really beautiful bouquet of white Ecuadorian roses with pink tips – without me asking for it! They were also quick to facilitate last-minute orders – I thought that I could just make my throwaway bouquet the offertory flowers but it was apparently too small so they had to make an offertory basket right then and there. The table centerpieces during the reception were ok also – but not exactly what I wanted, as she put calla lilies and roses in a vase… but it looked pretty nonetheless. No issues or complaints whatsoever.

Photography – Terry Uy and John Mateos Ong

Photography was an important aspect to both of us, and it took a while before we found ourselves a team we really wanted. Hiring Terry and Jong was a good combination – in the end we had a good balance of pictures, without compromising on what we really wanted, which was the candid photography. Working with these 2 people was also fun, and we were not disappointed with the outcome of their work.


Photography – Terence Uy

Terry's another supplier who has morphed into a friend, and he is undoubtedly one of my favorite suppliers We had our prenups November 2004 and were impressed by Terry's work, considering that he hates doing prenups and is a bit uncomfy with posed shots – thus, a candid prenup photoshoot which was also perfect for us since I don't like posed shots.

Throughout our preps, I'd have questions for him once in a while and he'd patiently answer them and put me at ease. Like any other artist, Terry's bad at paperwork and deadlines, but compensates for it by being on-time during shoots and isn't a difficult supplier at all. What Aldo likes about him is that he even took photos of the little details – like cork swimming in a bucket of water, and the food.


Photography/Videography – John Mateos Ong




Wedding photography/videography is really Jong's business. He knows the ins and outs, and what to expect during the wedding. I only got labor-only photography and videography from Jong but he arrived with another photographer with him, who also took great shots. Jong took care of posed shots while Terry did the candids.

Reception Venue (Palawan Ballroom), Executive Suite for Preps – Edsa Shangri-la Hotel




Edsa Shang was where we had our first date, so it was a top choice for our wedding, aside from the fact that it's near MTQ. Great food and great service – we were very happy. Too bad our wedding fell in renovation months so there was no pool and no garden, which translated into less pictorial scenery.

The Executive Suite was big enough to hold 20 people during make-up and dressing-up, and gave enough breathing space for Eddie and his team, plus our photographers and coordinators, to move around.

As for the Palawan Ballroom, the only hitches that I know of during the wedding was that there were less waiters than agreed upon (due to a big conference in another ballroom), and that there was a problem about the dvd player not being there or something. It was also funny that before our waiter parade began, we had to literally announce it with the words they needed to hear.


Projector – Jan Visual

I only contacted Jan Visual twice – to rent their projector and screen, and then later on to pay for it. Clarice dealt with them the rest of the day. I think the technician they sent became an all-around technician because he even helped with the audio system. Again, not sure about the details because Clarice handled it.


AVP – Paolo Gonzales

I stumbled on Paolo in the w@w classifieds. Since I had written the script, and had videos and pictures, all I needed was an AVP editor. I found Paolo's work purely creative, as opposed to something that dazzles you with high-tech effects and technical stuff. He does AVPs as a hobby, so he has the passion and the patience to really think of a concept for it. What happened was a fusion of both our ideas – he even convinced me to include a touching part where I do the voice-over and say something to Aldo. That took a while to do, as I'm not much of a mushy person to Aldo, let alone be brave enough to say it out loud for the whole world to hear.

In the end, our AVP turned out really good. I almost had a panic attack 2 days before the wedding because the cd wouldn't work on my laptop and PC, but thankfully it worked when we tried it on Edsa Shang's system. Problem was, there was some confusion and the player wasn't available that day so we had to resort to using my friend's laptop which he thankfully brought that day since his wife made another AVP for us.


On The Day Coordinator – Event To Remember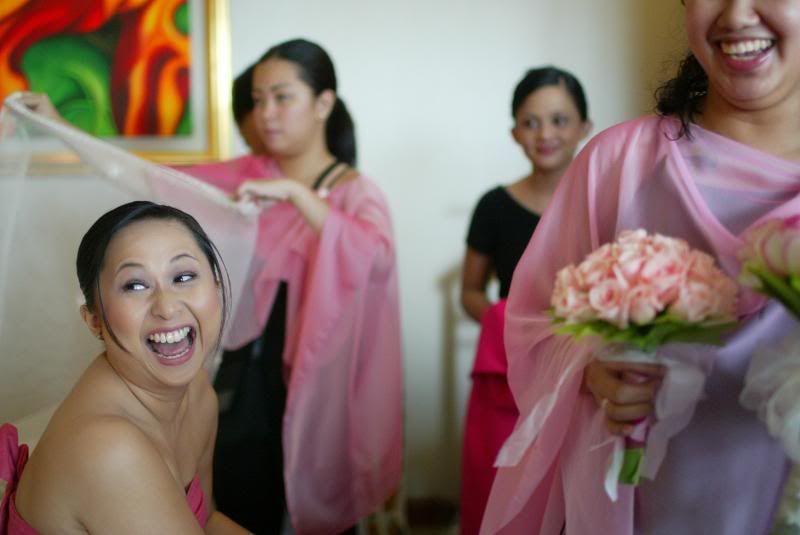 I love them! I first encountered Clarice while she was still preparing for her wedding last year, and immediately jumped at her OTD services when she went into it, knowing how OC she was during her preps. Abie (her reception coordinator) was also a blog-friend, and we had similar tastes and humor so we hit it off pretty well. Clarice is thorough and calm, which put me at ease OTD. I never really experienced problems with them. At the end of the reception, Clarice apologized for not being able to get the confetti cannons from the crew room in time – which I totally did not notice if she did not inform me. It wasn't much of a hitch since the confetti cannons were really a last-minute thing and I wasn't that gung-ho about it anyway.

The team is efficient, professional, and easy to get along with. It felt like they were a group of friends, rather than suppliers that I hired.

Liquor –Vino! Vino! (or something that sounds like that)

A week to the wedding, Aldo insisted on buying champagne for toasting, aside from the wine that we were already going to serve. So we looked for a slightly cheaper alternative to champagne – Asti Martini and Asti Cinzano. We looked at Ralph's, Rustan's, and Shopwise but they were priced at P750 each. We were at Market! Market! for a fitting in Ready To Wed months before and I remembered a newly-opened liquor store near the fruit market and they were cheaper - at P580/bottle.


Honeymoon – Lagen Island Resort, El Nido, Palawan
www.elnidoresorts.com

Lagen Island was a perfect goodbye to the Philippines. At Lagen, guests are really treated well and the facilities are high-end all the way. Palawan was beautiful, even if it was raining on and off while we were there. We had so much fun that we both gained at least 5lbs. after only 4 days!